Spring 2003 Award Presentations
Trophies are awarded based upon overall results for the 8 weeks. The divisions are:
Girls 5-6

Boys 5-6

Girls 7-8

Boys 7-8

Girls 9-10

Boys 9-10

Girls 11-12

Boys 11-12

Girls 13-14

Boys 13-14
Boys and girls who participated in four or more of the 8 races are eligible. Trophies were awarded to top 5 runners in each division. Points are accumulated after each race. First place in your category is worth 10 points, second place is worth 9 points, and so on.
Girls 5-6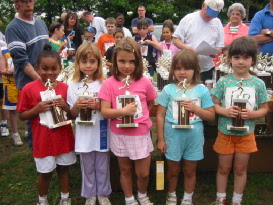 Marquia McCall
Kayla O'Neil
Emily Lescinskas
Teresa Lescinskas
Sarah Griffin
Boys 5-6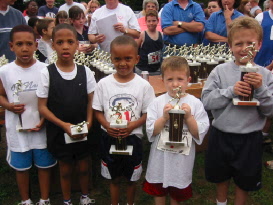 Bradford Besson
Jason Marshall
Stephen L. McCall, Jr.
Christopher Picanzo
Joshua Harris
Girls 7-8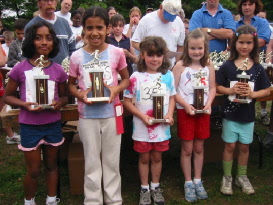 Jensine Joseph
Alleyah Wheaton
Samantha Marchetti
Sarah Czymbor
Julia Godek
Boys 7-8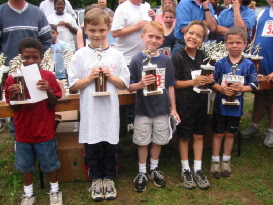 Steven McCall
Zachary Losby
Cory Wood
Jonathan Ortiz
Kevin Godek
Girls 9-10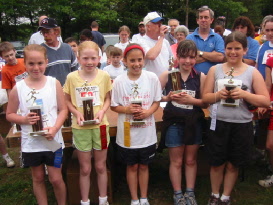 Jessica Hill
Megan Sullivan
Julianna Strutoti
Stephanie Grillo
Francesca Saville
Boys 9-10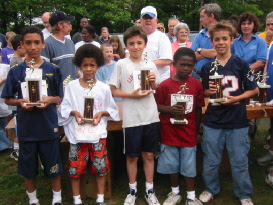 John Cutts
Ted Wheaton
Garrett Grandy
Marquis McCall
Richard Morrow

Girls 11-12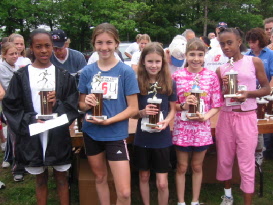 Taylor Wheaton
Rose Buckley
Julie Binney
Alicia Phillips
Ashlee McCall
Boys 11-12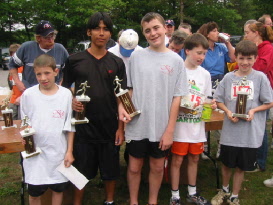 Daniel Shapiro
Antonio Arguello
Brian Clark
John-Paul Sullivan
Nicholas Wade

Girls 13-14
Elva Arguello
Megan Andrews
Elizabeth Crawford
Kendra Barth
Lynsey	Scully
Boys 13-14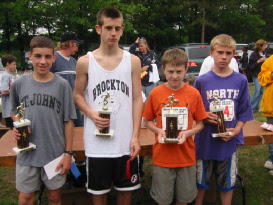 Steve Gemme
Nathaniel Brown
Will Czymbor
Matthew Wood